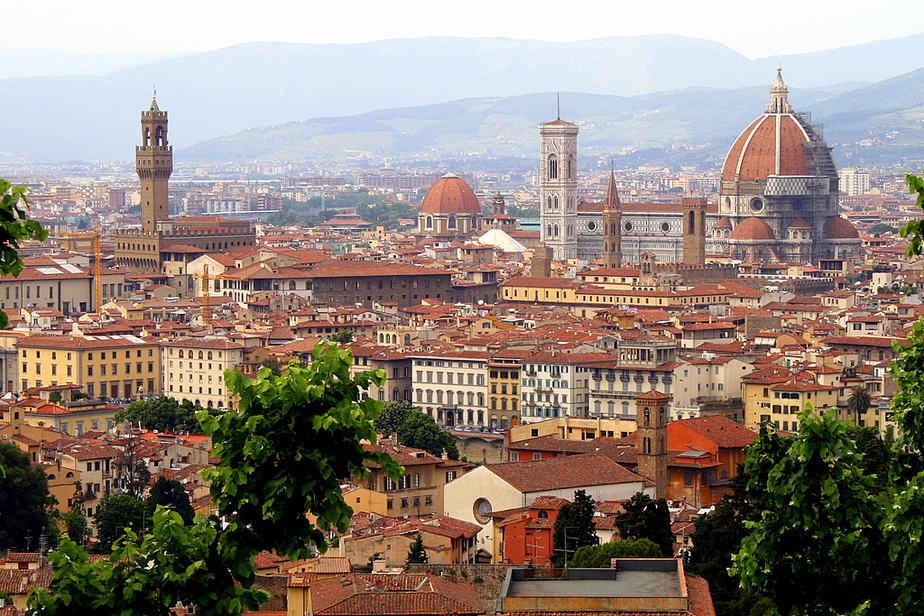 Finding Our La Dolce Vita in Florence
La Dolce Vita translates to The Sweet Life. This phrase came from the iconic Fellini movie of the same name that depicted life in 1950's Rome. Today, la dolce vita is an expression used to describe a life full of beauty and pleasures. It means a life of music, love, good music and food.
I came to Florence at 16 during a school trip and instantly felt a special energy, almost like I was home. At such a young age, I couldn't really process or understand the feeling I had walking these ancient cobblestone streets.
Unknowingly, one of the photos that I took of a sunset over the Arno River became my first "vision board". It was pinned to every cork board in high school, taped to every mirror in college and framed when I bought my first house. There was just something about Florence.
In our first year of dating in 2004, Rob and I came to Florence as our first overseas trip together. Although we had both been to this magical city previously, it felt different together. It blew our minds that there were sandwich shops that were 600 years old, or a pharmacy that has been in business over 800 years. How is that even possible we would question. We became obsessed with the fruit and vegetables, somehow they tasted so much bolder and sweeter than anything we had tasted before. We loved strolling the empty getting lost in maze of medieval streets at night.
MAGIC MOMENTS
On our first trip to Florence, we stumbled into a restaurant one night that instantly became our favorite. It was dark, candle lit and welcoming. The owners were an eclectic father-son team, the father with white hair and a big personality, his son with layers of jewelry, and a bit more reserved. The father took me into the kitchen, showing me how he made his famous pear and pecorino pasta. Rob asked the son, who was our waiter to choose our meals. For me, he chose the famous pasta, for Rob, he chose 'the goat'. Rob looked at him and said "I don't eat goat.". The son looked back, "What are you not a man?". Rob replied, "I guess I'm eating the goat tonight."
Over the years, any chance we could, we'd come back to Florence, even if just for a day, we'd make a reservation. In January 2014, we met our travel besties in Florence for one night, and booked a dinner at our favorite place. As the owner came over to pour me a glass of prosecco, I covered my glass. Instantly my friends erupted, knowing this meant that we had a little munchkin on the way.
---
Spoiler alert for Italia Experience attendees… This fall, during our Italia Experience, we will be welcoming you to this magical restaurant for dinner. We want you to see and experience OUR Florence. You'll meet the son, who now wears even more jewelry, taste the famous pear and pecorino pasta and hopefully, fall in love with it, just like we did.
---
A REBIRTH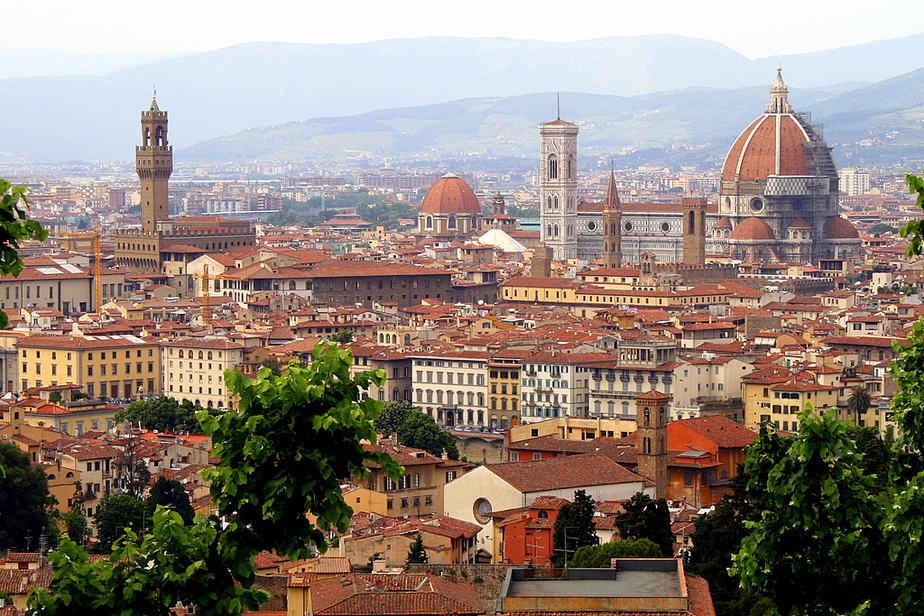 Florence is home to the Renaissance (rebirth). Coming out of the dark, middle ages, Florence became the center of changes in art, new inventions and thinking. The Renaissance period changed the way the people thought. Humanism was the theme of this period. Florentine's adopted this progressive philosophy of life that, without theism or other supernatural beliefs, affirms our ability and responsibility to lead ethical lives of personal fulfillment that aspire to the greater good.
For us, Florence is a place of pure inspiration. Walking the literal same streets as the poet Dante, the artist Michelangelo, and the brilliant master of almost everything, Leonardo Davinci. When I look at the watercolor skies, I wonder if these same skies spoke to them the way they speak to me? These skies trigger a creative side that I didn't even know existed. When I see the dome of the cathedral, once an impossibility, it reminds me that truly anything is possible.
Many that come to Florence experience their own personal Renaissance or re-birth. The palpable energy, the organized chaos, the humanism, the beauty, the art and the SUNSETS. If you allow it, it'll provoke a deep sense of self-reflection. The deep red and orange sunsets demand your attention and are a great reminder to rest and reset our hearts and minds at the end of each and every day.
---
Spoiler alert for Italia Experience attendees… You will experience the famous Duomo (the cathedral) in a way that is not open to the public. And, it will leave you breathless.
---
THE SWEET LIFE
The biggest lesson we've learned, living in Florence, is that life is truly meant to be enjoyed. It's easy to say "live everyday as it's your last", but few actually do it. We've learned to allow the magic to unfold in each day. We learned to say "yes" more often than we say no. We've learned to allow the inspired actions to take the lead, and stress less about "getting it done". We've learned that extremes aren't necessary, and all-or-nothing is a myth. We've learned that HARD doesn't equal better. Most of all, we've learned to slow-the-f-down and enjoy the sweetness of each moment.
---
For those coming to Italy for our Italia Experience, we can't wait to share our La Dolce Vita with you and hopefully, inspire you to live your version of La Dolce Vita too.
If you are interested in our Italia Experience, jump on our list here and we'll send you the details!